September 17, 2018 / by / In perfume
Episode 4: Human-AI Collaborated Perfume
TL;DR? Check out the Youtube video of this project!
Note
: the tunes we used in this video is generated by our music expert AI, Halleck from
Episode 1
of How to Make (Almost) Anything. Please give him some love, and use some of his tunes to create your own human-AI collaborated music!
---
So far, we did human-AI collaborated arcade songs, pizzas, and dresses. So what's next? Human-AI collaborated perfumes!
It seems like perfume creation is an area that didn't get enough attention yet (the only work we could find was IBM's paper from last year –which we encourage everyone to read). To the best of our knowledge, in this episode we probably created world's first human-AI collaborated perfumes!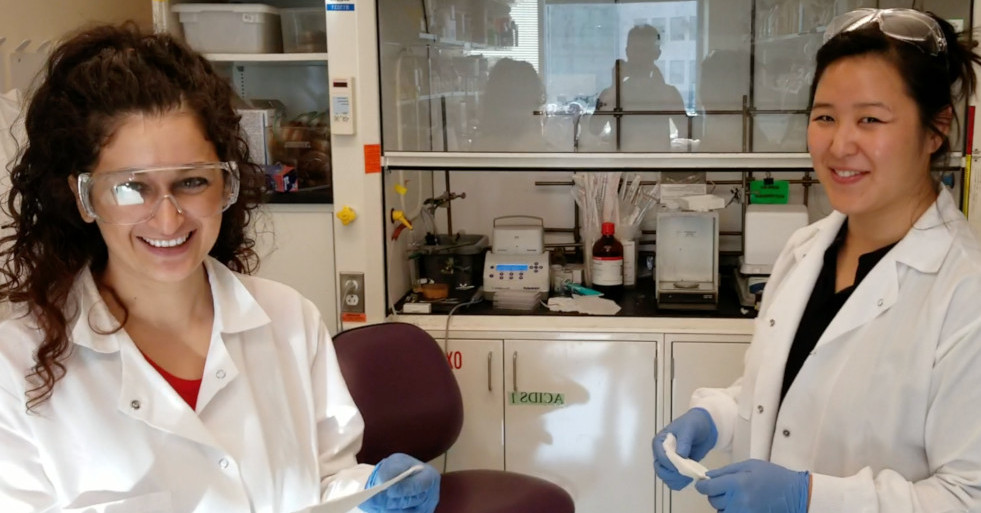 Meet the perfume team: Pinar Yanardag and Sharon Yoo.
So, what's in a perfume? It turns out that a fragrance is divided into three different notes, based on the scents that can be sensed when the perfume is applied to the skin. For instance, let's have a look at the tones of the famous No.5 perfume by Chanel:
No. 5 fragrance notes:
Top Notes
Aldehydes, Bergamot, Lemon, Neroli
Heart Notes
Jasmine, May rose, Ylang ylang, Iris, Lily of the valley
Base notes
Sandalwood, Cedarwood, Oakmoss, Vetiver, Amber, Patchouli, Musk, Vanilla, Civet, Ambergris

Top notes are the initial smells when you first put the perfume on (and then they evaporate quickly), such as bergamot, orange, eucalyptus and lemon.
Heart notes (also called, medium notes) are the smells that appear after the top notes start disappearing, such as cardamom, lavender and juniper.
Base notes appear after the heart notes, and last the longest, such as cedarwood, rose, patchouli.
You can read more here about how to make a perfume with essential oils.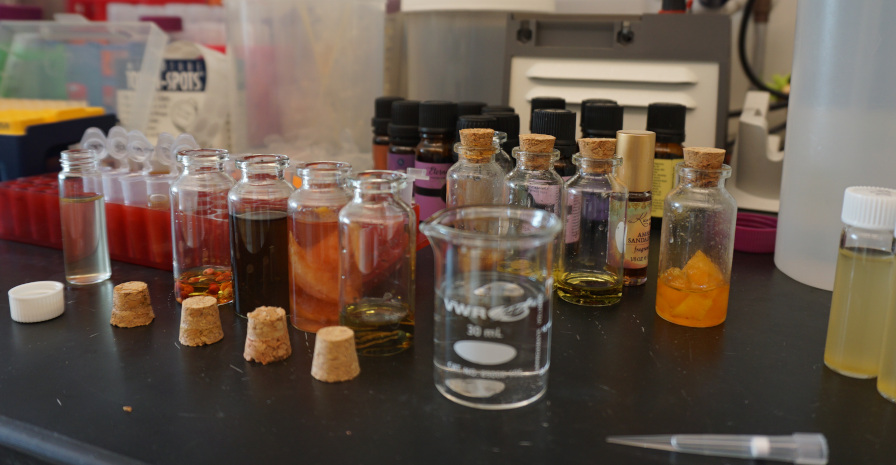 The oils we infused at the lab (from left to right: pink pepper, bergamot, peach and leather).
After gearing ourselves up with all the DIY perfume knowledge, it is now the time to generate some perfume recipes! We collected thousands of fragrance notes from Basenotes, and trained a recurrent-neural network to generate new ones. In addition to top, heart and base notes, we also included the title and the gender information for each perfume. So, we want the model to not just generate notes for the perfumes, but also we want it to name them, as well as assigning them into genders (the dataset we collected have feminine, masculine, and unisex).
For this experiment, we selected two AI-generated perfume recipes to bring to life: Iconit, and Light of Imporia (needless to say, those names are also dreamed-up by AI):
Iconit:
Gender: Feminine
Top notes: Cardamom, Mognolia, Lemon, Citrus
Heart notes: Geranium, Apricot, Cardamom, Rose, Jasmine
Base notes: Sandalwood, Leather, Vanilla orchid, Caramel, Amber, Oakmoss
Light of Imporia:
Gender: Feminine
Top notes: Pink pepper, Bergamot, Lavender
Heart notes: Rose, Jasmine, Peach, Cedar
Base notes: Patchouli, Vanilla, Leather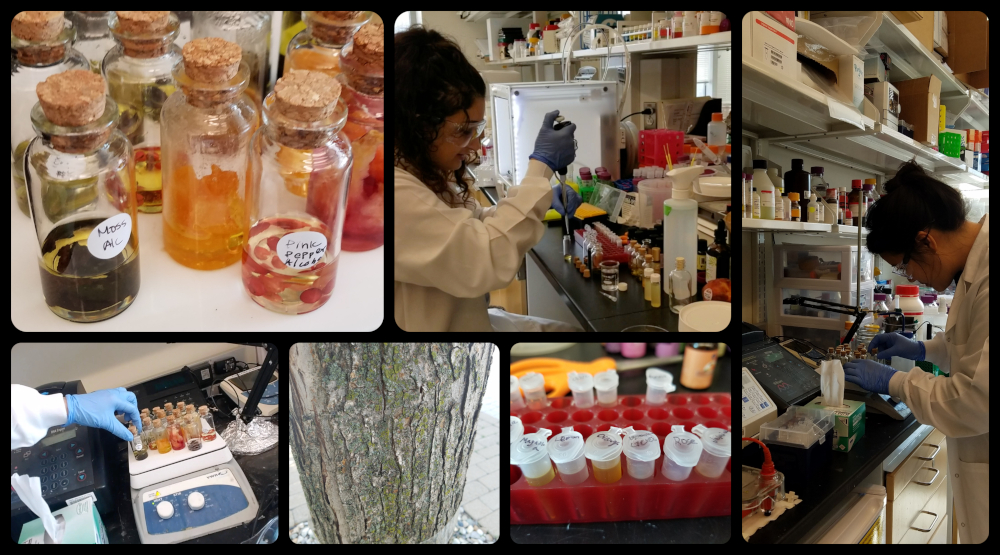 Pinar and Sharon are creating perfumes dreamed-up by an AI at the Koch Institute, MIT.
The basic process of making a perfume involves blending alcohol (we used 200 proof ethanol) and essential oils that the recipe is calling for. We found most of the essential oils from herbal shops in Cambridge, however some of them were still missing, like cardamom, bergamot, leather, caramel, oakmoss, pink pepper, apricot, and peach. So we decided to infuse them!
We infused most of the missing oils with raw ingredients, like cardamom pods, pink pepper corns, fresh apricot and fresh peach. But some of them were calling for more creativity, like the leather oil and oakmoss oil. Since we didn't want the experiment to fail, Pinar kindly sacrificed her leather backpack and cut a piece of leather to infuse. For the oakmoss oil, we scratched the surface of a tree near Stata center which had plenty of moss on it (see pics above). Finally, in order to speed up the infusing process, we used a hot plate at the lab, and prepared two versions of each oil; one infused with jacoba, and the other infused with alcohol (the latter worked better and faster).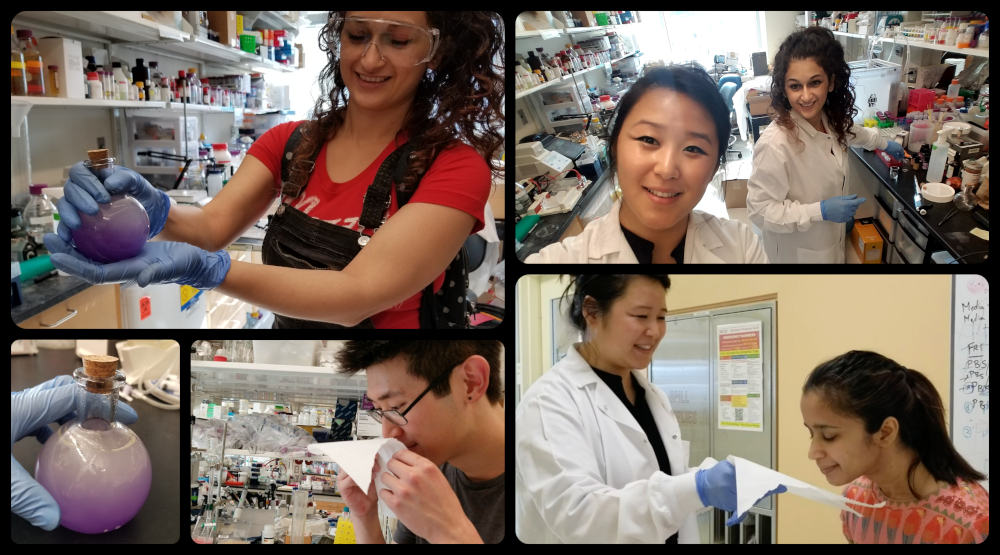 George and Swati are testing human-AI collaborated scents (on the left: an elixir-looking perfume we experimented with food coloring)
After mixing the oils the recipes ask for, we have Iconit and Light of Imporia ready for testing (we pretty much followed the same recipe for Iconit, but we doubled the floral tones for Light of Imporia).
Overall, everyone who smelled Iconit thought that it smells like a nice bathroom or a luxery shampoo/soap. However, we got mixed opinions for Light of Imporia. Some people thought that it smells feminine and floral, and some people thought that it smells like a nice car! We videotaped the process (and testing stages) which you can watch on Youtube. And please subscribe to our channel if you want to get updates about new episodes!
---
Do you want to collaborate with the AI?

Is there an AI-generated perfume recipe that you are interested in? We invite you to get inspired by the hallucinations of the AI. Send us pictures and videos of you making (or testing) the perfumes, and we will add them here!
Volak Fujt
Gender: Feminine
Top: Mandarin, Pineapple, Tarragon, Juniper
Heart: Jasmine, Frankincense
Base: Vanilla, Cashmere woods, Vanilla, Musk
Shestatit
Gender: Unisex
Top: Bergamot, Lemon, Watermello, Bergamot, Rosemary
Heart: Rose, Iris, Jasmine, Rose, Lily of the valley, Jasmine, Pepper, Jasmine
Base: Amber, Sandalwood, Patchouli, Leather, Sandalwood, Musk

Happling & Lavand
Gender: Masculine
Top: Violet leaf, Starf rose
Heart: Water lily, Iris, Cyclamen, Peach, Raspberry
Base: Cedarwood, Sandalwood, Sandalwood, Amber
Ventival
Gender: Feminine
Top: Sunflich Nutmeg, Hiniscus, Apple, Blackcurrant
Heart: Heliotrope, Violet, Bitter orchid, Blae cedarwood
Base: Cedarwood, Musk, Patchouli
Cashmeric Rashe
Gender: Unisex
Top: Petitgrain, Lemon, Bergamot
Heart: Lily of the valley, White pepper wood
Base: Amber, Musk, Amber, Patchouli, Benzoin
Pruce Dé Black
Gender: Masculine
Top: Bergamot, Mandarin, Grapefruit, Bergamot Tonka
Heart: Amber, Oakmoss, Cistus
Base: Woody accord, Cedarwood, Sandalwood
Hivinga
Gender: Unisex
Top: Cardamom, Mandarin, Red berries
Heart: Pink pepper, Iris, Jasmine, Cedar, Musk
Base: Sandalwood, Musk
Oud Galpina
Gender: Feminine
Top: Tangerine, Neroli, Bergamot, Tangerine absolute, Lily of the valley
Heart: Clary sage, Violet, Jasmine
Base: Vanilla omber, Benzoin, Oakmoss, Cedarwood, Vanilla
Calagsimo
Gender: Masculine
Top: Orange, Bergamot
Heart: Coriander, Pepper, Peach, Geranium, Orris absolute, Lily of the valley
Base: Patchouli, Sandalwood, Amber, Leather, Vetiver, Oakmoss
Adazul Black
Gender: Feminine
Top: Bergamot, Lavender, Saffron
Heart: Jasmine, Basil, Cinnamon
Base: Tonka bean, Amber, Vanilla
Want more? Just send us an e-mail!
Note: Careful readers will see that the songs in Episode 1 are named with the perfume titles we generated in this episode!
---
Special Thanks to Crompton

Crompton is the perfume designer AI that generated the inspiring perfume recipes in this episode. Similar to her namesake, Crompton is hoping to pinpoint specific olfactory-memory hookups in the future.

Note: Crompton's profile picture is also dreamed-up by an AI.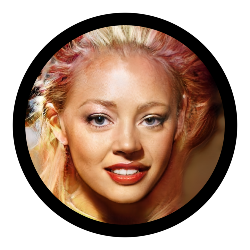 Comments/Feedback
Do you have comments on this episode? Feel free to share them on Medium or send us an e-mail.