September 01, 2018 / by / In fashion
Episode 3: Human-AI Collaborated Fashion
In this episode of How to Generate (Almost) Anything, we made human-AI collaborated fashion designs!
TL;DR? Check out the Youtube video of this project!
Note
: the tunes we used in this video is generated by our music expert AI, Halleck from
Episode 1
of How to Make (Almost) Anything. Please give him some love, and use some of his tunes to create your own human-AI collaborated music!
We already used RNNs in Episode 1 (Human-AI collaborated music), and Episode 2 (Human-AI collaborated pizza), so what's next? GANs!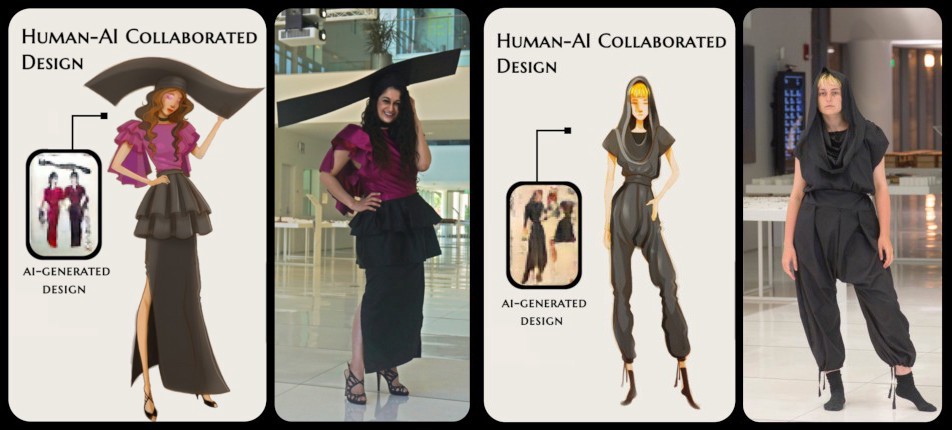 Human-AI collaborated fashion designs made by Agnes Cameron.
Our initial plan was to train a GAN to generate sewing patterns. However, we quickly realized that gathering a substantial dataset of dress patterns is quite difficult (and costly) – since it turns out that selling dress patterns is a relatively big market and there is no open platform to share or download the patterns. Then, we stumbled upon Vintage Patterns, an online platform where people can browse through vintage dress designs –scanned from the covers of vintage magazines such as Advance. Even though we don't have access to the actual sewing patterns, the cover images still looked inspirational. So, we wondered: can we train a GAN to generate such images, and use them to design new (human-AI collaborated) dresses?


Human-AI collaborated fashion designs made by Agnes Cameron (two models on the left) and Pinar Yanardag (the rest). The models are illustrated by our amazing illustrator, Asiye Ulu.
After collecting around 5K images from Vintage Patterns and training a GAN for a few days, we ended up with some interesting designs! (see below) As you can notice, most of the cover images in the training dataset had two models posing in them, so are the images generated by the AI.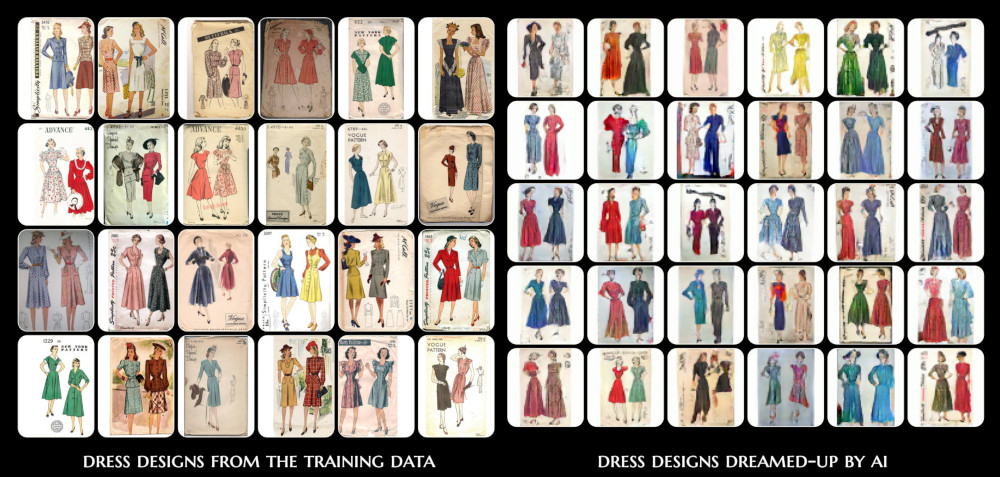 Left: vintage dress designs collected from Vintage Patterns. Right: dress designs generated by the AI.
Probably due to the fact that we trained the GAN only for a few days (rather than weeks), the AI makes some interesting mistakes such as combining a normal sleeve and a bell sleeve within same dress. Also, it tends to create some weird, super long hats –it seems like it couldn't figure out how to separate the writings in the background yet and thinks that they belong to the dress. Also comparing to the training set, we tend to notice a lot of mixed/gradient colors in the dresses. But no worries! While working on creating new designs, we found all these features quite inspiring!
We selected a few AI-generated designs that we liked, and headed to Gather Here fabric shop in Cambridge –they have an amazing collection of fabric, yarn, and fibers, and also offer classes which you should definitely check out!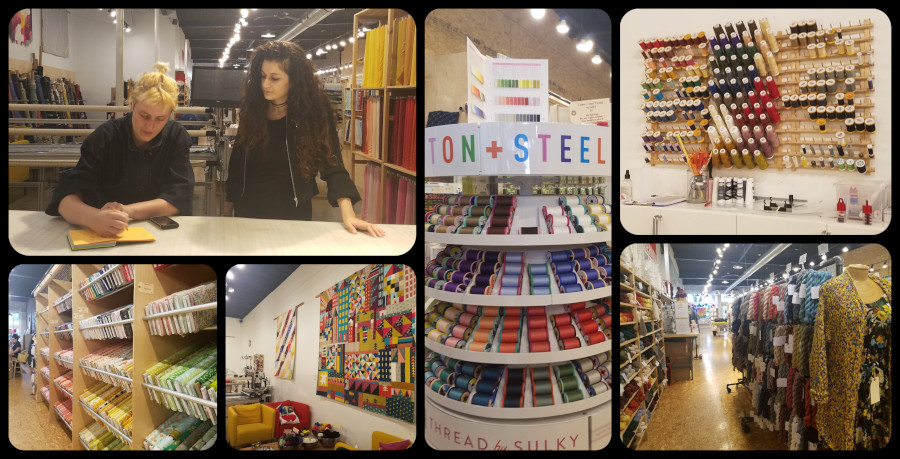 Shopping for fabrics at Gather Here fabric shop, Cambridge, MA.
After getting some nice fabrics from Gather Here (and a few more from fabric shops in NYC), it was now Agnes' time to shine! Agnes has been making amazing costumes for operas for quite a while, and she was super excited to collaborate with the AI. There is an amazing sewing shop at MIT Media Lab (see some of the images below) which has all the tools that we need to make the dresses!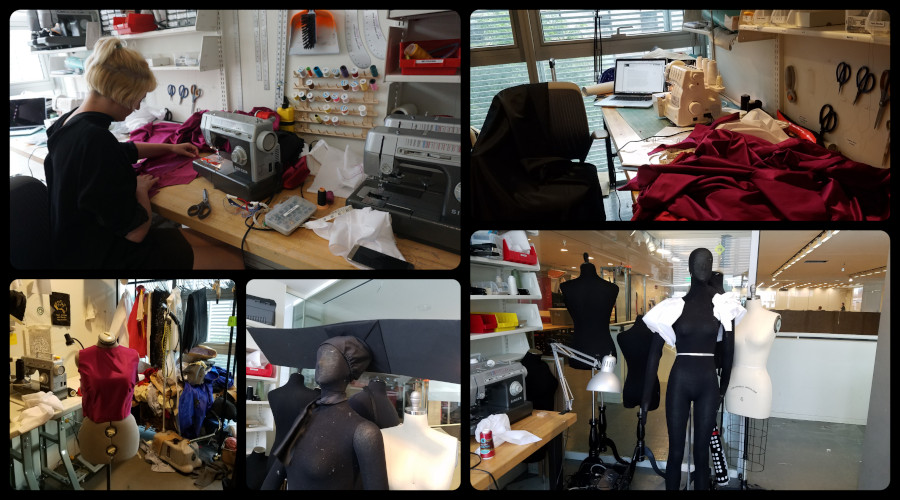 The sewing shop at MIT Media Lab.
Over the course of a few days, Agnes made two amazing human-AI collaborated dresses; one (posed by Pinar) that looks like a prom/graduation ceremony dress from the future (well, we made the hat from an actual graduation cap), and the other is a post-apocalyptic jumper (posed by Agnes) inspired by Yohji Yamamoto's designs.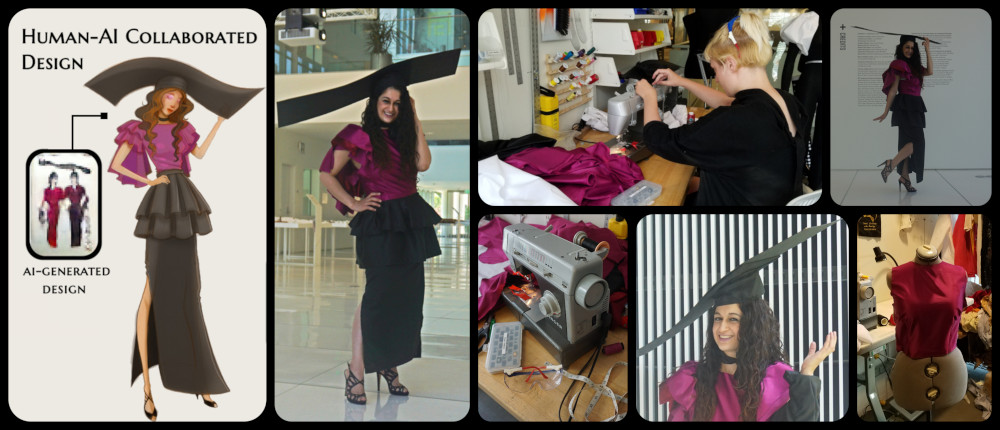 Pinar is posing with the human-AI collaborated dress made by Agnes (hat is made by Pinar).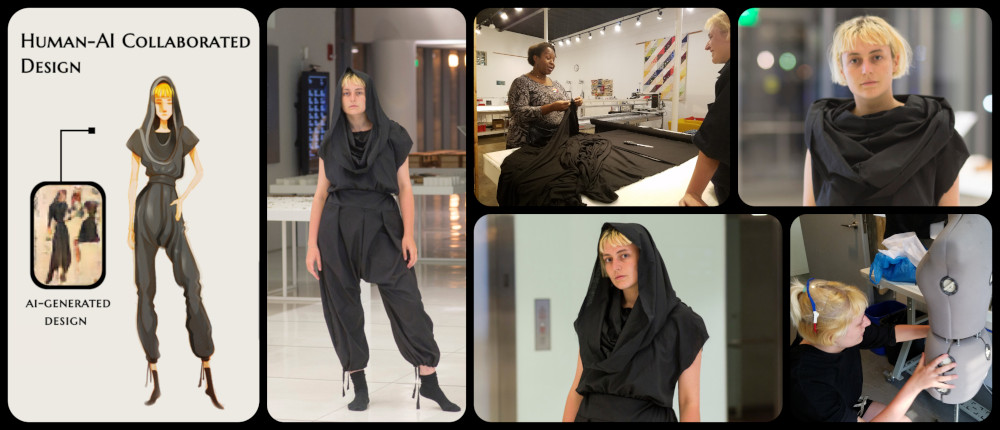 Agnes is posing with the human-AI collaborated post-apocalyptic jumper she made.
While exploring the AI-generated images, Pinar noticed quite a few designs with furs and neon colors (both are trending in Fall 2018!) which inspired her to create The Electric Fur collection below –it goes without saying, but we mean faux-fur, produced using renewable plastics!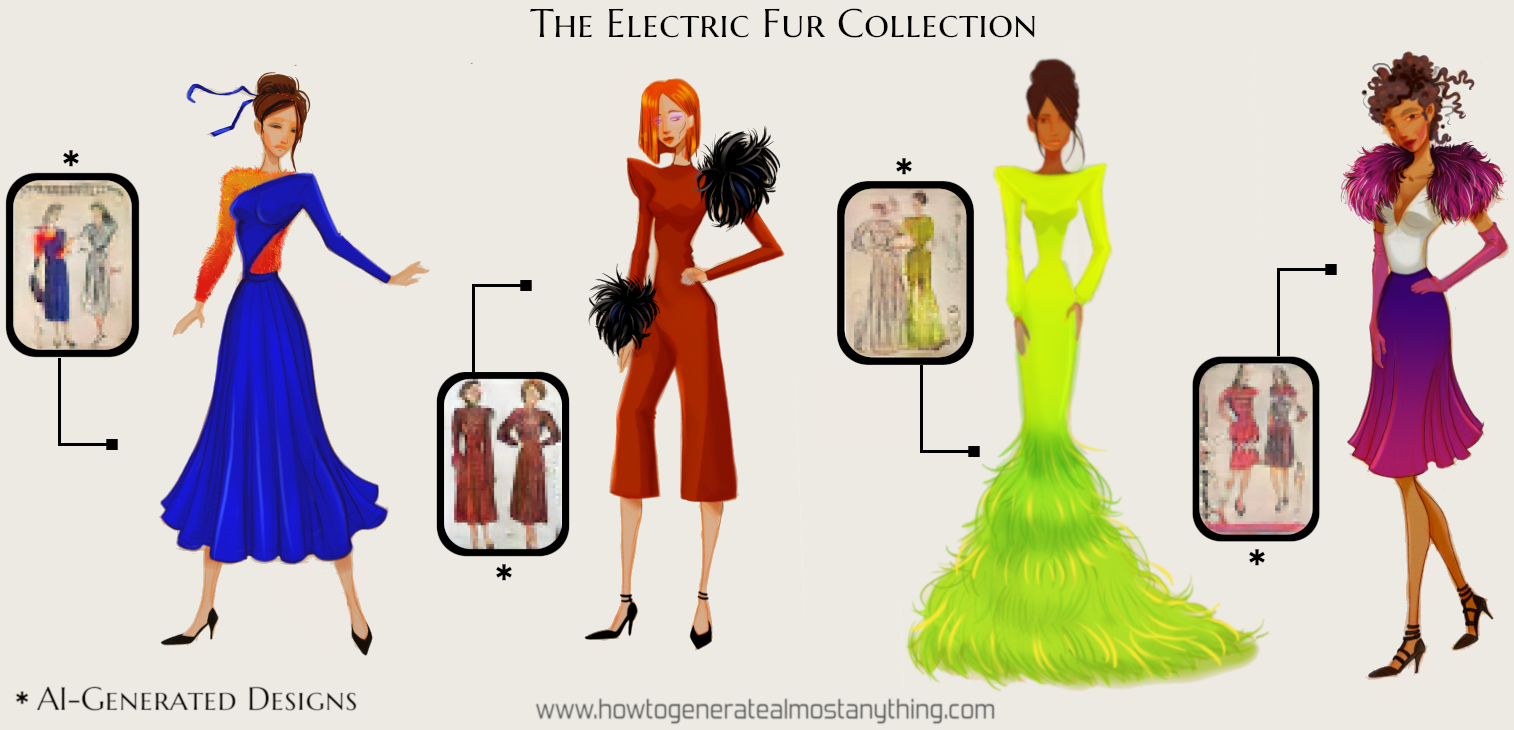 The Electric Fur collection designed by Pinar Yanardag.
---
We videotaped some of the process which you can on Youtube (watching the video with closed captions on is highly recommended). And please subscribe to our channel if you want to get updates about new episodes!
---
Do you want to collaborate with the AI?

Is there an AI-generated design that you like? Whether you are an amateur designer, or a skilled tailor, we invite you to get inspired by the hallucinations of the AI. Send us pictures and videos (or just sketches), and we will add them here!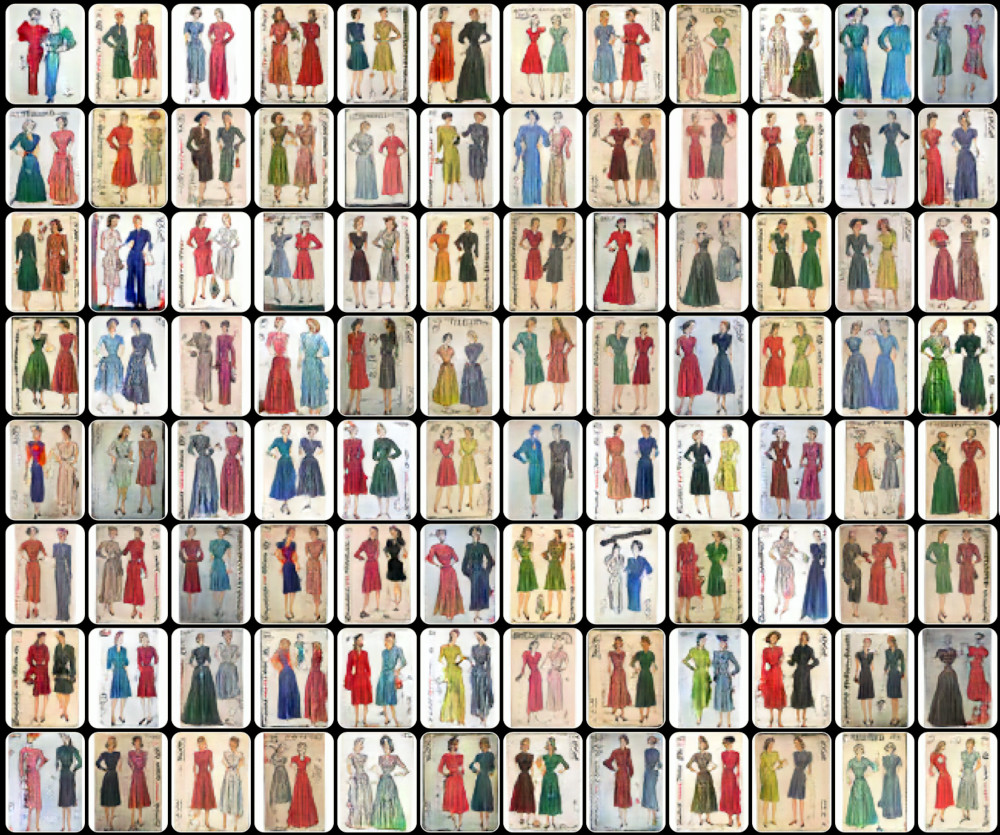 AI-generated fashion designs, Part #1.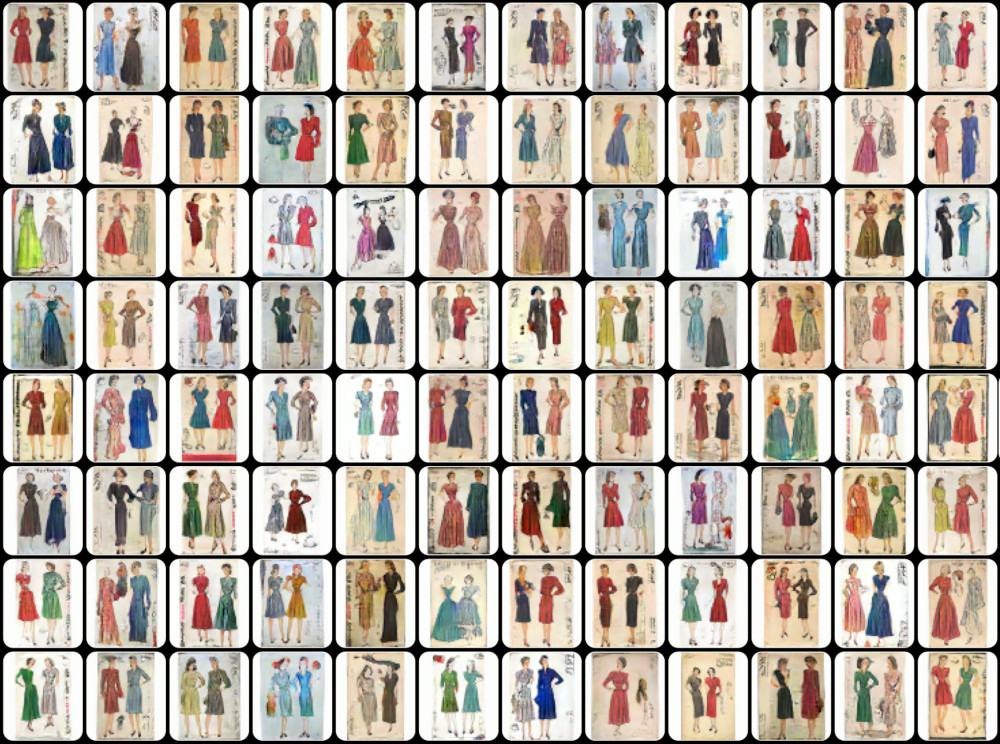 AI-generated fashion designs, Part #2.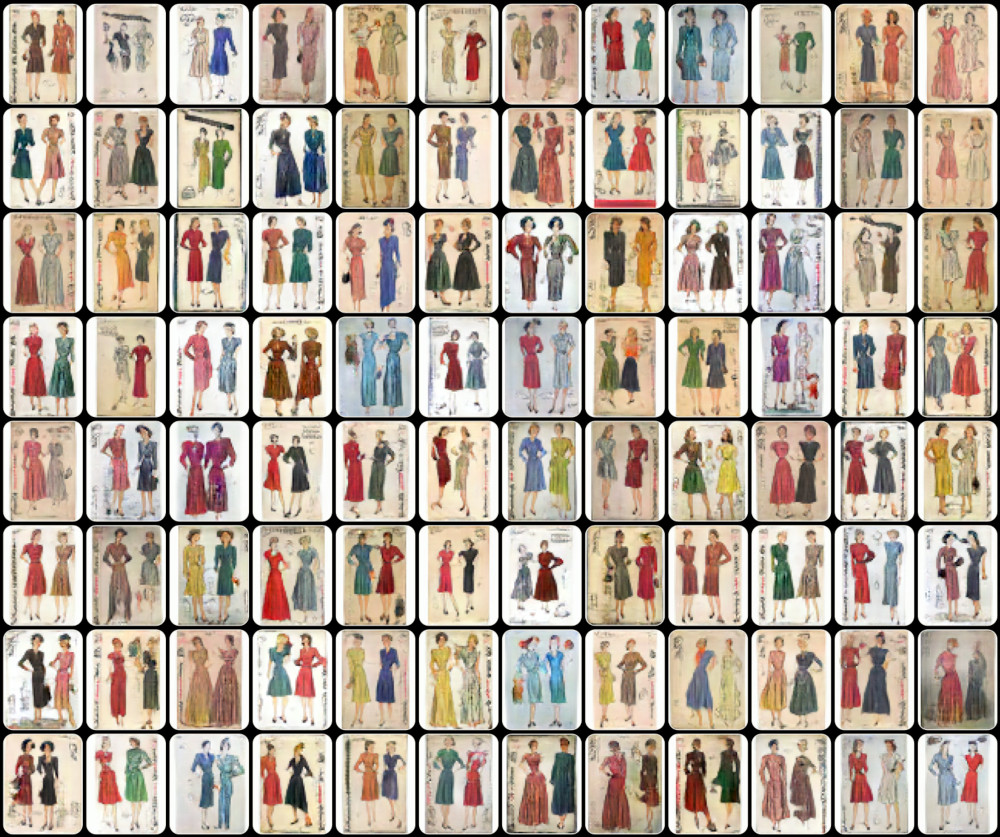 AI-generated fashion designs, Part #3.
Want more? Just send us an e-mail!
Special Thanks to Garak

Garak is the fashion designer AI that generated the inspiring dress designs in this episode. Similar to her namesake, Garak prefers simplicity and believes that the beauty is in the eye of the beholder.

Note: Garak's profile picture is also dreamed-up by an AI.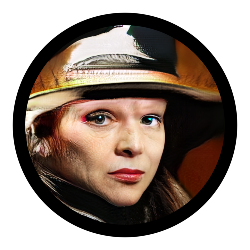 Comments/Feedback
Do you have comments on this episode? Feel free to share them on Medium or send us an e-mail.